DigiAdvance is a new European Commission-funded project, run by 6 expert partners, which aims to address the growing digital skills gaps for SMEs in Europe, over the next three years.
Growing digital skill gaps
Since the beginning of the global COVID pandemic, both large and small businesses across the world have had to digitise at a fast pace, as well as keep up with new technological trends such as blockchain, big data and machine learning. Training in SMEs is not commonplace, due to lack of funds, time and resources.
For this reason the DigiAdvance is new on the scene to help SMEs and their employees face the new challenges brought by growing digital tasks!
How will DigiAdvance help SMEs?
The project will create around 40 low-cost, demand-driven, tailored training and courses for SMEs and their employees, in the following areas:
Financial Innovation and Technology
Artificial Intelligence
Blockchain
Cybersecurity
Data Analytics & Machine Learning
Digital Marketing & Web Development
The courses will last from 25 hours to 6 months, with workshops ranging from 2-5 hours in key areas of learning. They will also be flexible, offered in local languages where possible, aligned with national and European standards and guidance for quality assurance. All courses will be certified with certificates upon completion, with there also being options to earn credits focused on industry need.
These courses will support SMEs in the following ways:
Develop the skills and confidence of existing SME employees in digital technologies
Provide opportunities for job seekers to upskill or re-skill, therefore enhancing the talent pool for SME recruitment
Empower business leaders to drive innovation and investment in digital technologies by improving their understanding and their awareness of such technologies
Identify current and future trends and needs in the SME sector for digital skills
Create opportunities for knowledge-transfer and networking across both European HEIs and Industry
Who is running the project?
There are 6 expert partners behind the DigiAdvance project, spread across three countries: Spain, Portugal and Ireland. Each partner has extensive relevant experience
University of Aveiro (Portugal) has over 50 years' experienceas one of the most dynamic and innovative universities in Portugal, now a public foundation.
Dublin City University (Ireland) has significant, demonstrable experience in the design and delivery of high-quality online provision in Ireland with 30 years' experience in distance education.
Barcelona Digital Talent (Spain) whose umbrella organisation is Mobile World Capital, aims to drive the mobile and digital transformation of society while helping improve people's lives globally, since 2012.
Universitat Autonoma de Barcelona (Spain) is an experienced institution bringing over 30 years of experience in teaching digital technologies.
Inova-Ria (Portugal) (Companies Association for an Innovation Network) (Portugal) is a non-profit organization in Aveiro, Portugal, that aims to create and strengthen an Information and Communication Technologies and Electronics Cluster.
The FinTech Corridor (Ireland) is a cross-border cluster working with FinTech companies, academic institutions and development agencies along the Dublin to Belfast corridor, focusing on developing and promoting the region's FinTech sector.
Recently the partners met in Ireland to kick off the project, discussing the first steps putting put into motion (see photo below of the first project meeting).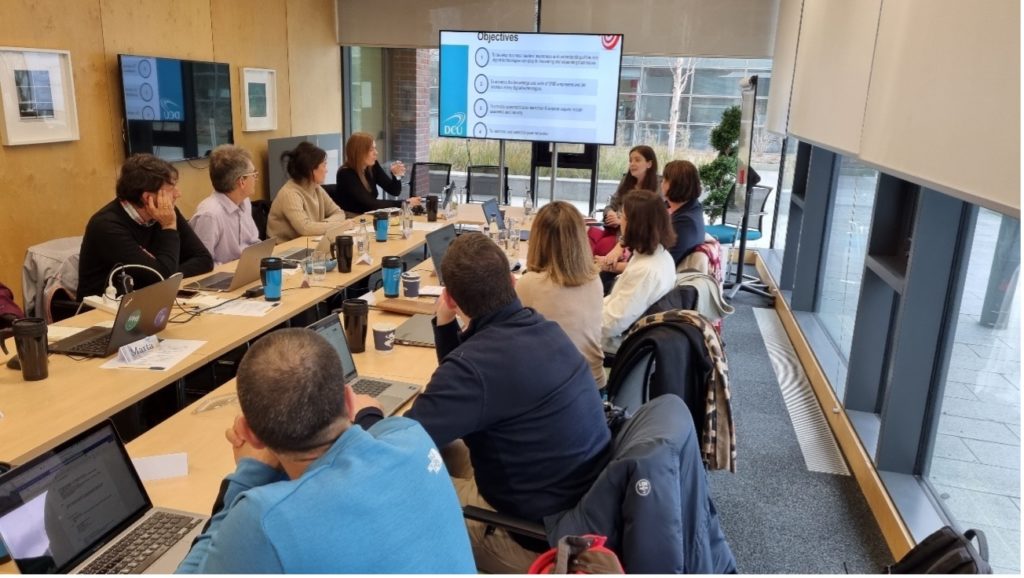 Where can I find out more?
To find out more about our accredited courses and trainings for SMEs, follow us on our social media channels and blog. Updates on the course creation will be published regularly, as well as when they are released for SMEs and their employees to start learning!
We are looking forward to starting this journey, and helping European SMEs to increase their digital skills. Stay tuned for more!